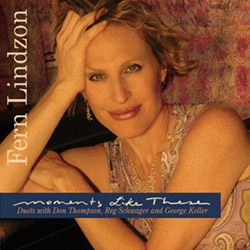 by Tracey Nolan, Coda Magazine, May 2008
Veteran Toronto singer and pianist Fern Lindzon has taken an interesting approach to her debut recording Moments Like These. Completely made up of duets with noted musicians Don Thompson (here on vibraphone), bassist George Koller and guitarist Reg Schwager, Lindzon achieves a sense of intimacy on this recording that is pleasing and rare.
Lindzon's vocals are rich, elegant and, thanks in part to her many years of stage experience, delivered with a sense of confidence and ease. Her piano playing is very much in the jazz tradition (she has a great swing feel), but is also contemporary in tone. The temptation when playing duet might be to play more, if only to fill empty spaces, but Lindzon maintains a judicious style.
Vocally, Lindzon is most effective on standards like Irving Berlin's Let Yourself Go, where she performs a clever rendition of the rarely heard verse. Of the duets that are strictly instrumental, standouts include a spirited conversation between Schwager's delicate guitar and Lindzon's piano on You Really Shouldn't, But… and the opening track Like Someone In Love, where Thompson's mile a minute vibes provide an effective counterpart to Lindzon's clean piano lines.