By Kerry Doole, Tandem
Toronto jazz artist releases an eclectic second album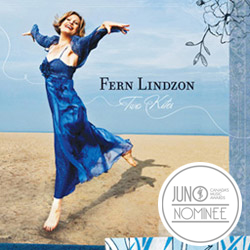 It came as no surprise to those in the local jazz community when The Toronto Downtown Jazz Festival gave Fern Lindzon a Special Project Initiative grant recently. This has helped provide support for Lindzon's eagerly-anticipated CD launch at Lula Lounge on April 28, and is deserved recognition for her multi-faceted talent. A singer, pianist, composer, and bandleader, she has now added the tag of film composer to her impressive resume. 
Last year, she was approached by the Toronto International Film Festival to come up with a score for Buster Keaton's silent film classic, Sherlock Jr, and she then led a klezmer/jazz sextet in four performances of the score in the just christened Bell Lightbox venue. The reviews were unanimously positive, including one from Josh Grossman, TDJF Artist Director. "I had never seen the movie and the music fit so well," he said. Lindzon explains that "my mandate was to come up with original music that is klezmer-influenced, with some free jazz in there. I discovered I really love writing music for film, and I already have my eyes on another couple of Buster Keaton films."
Her current focus is upon the launch of Two Kites. Her second CD, it is a highly accomplished work destined to boost her profile on the Canadian scene (and beyond). Lindzon refuses to wear a stylistic straitjacket, and the album's material includes pop, blues, Brazilian, and klezmer elements. "There is definitely a diversity there, but for me there's no difference if I'm singing in English, Yiddish, Portuguese, or Hebrew. I look for beautiful melodies, fantastic lyrics, and a piece of music that intrigues and inspires me to want to arrange it. In the end, it's all jazz," she explains.
The recording sessions took place in popular Toronto studio Canterbury Sound. "We recorded all the bed tracks in two days, with the same four guys in one studio, so we were coming at it in the same timeframe and in the same kind of spirit," says Lindzon. Two Kites was produced by George Koller (he also played bass) and also features Juno-winning saxophonist Mike Murley and acclaimed drummer Nick Fraser.
Two Kites mixes some classic tunes (Rodgers and Hart's "My Romance," "Basin Street Blues") with material from such noted composers as Norma Winstone and Antonio Carlos Jobim. The legendary Brazilian wrote the delightfully offbeat title track, covered in flirtatious fashion by Lindzon. "The words are wacky [sample lyric: "I see a flash of your thigh like a spy in the sky"], and it's a huge amount of fun to play," she says. The instrumental "All Fall Down" is an original tune illustrating Lindzon's own compositional prowess.
Lindzon's early passion for music did not include jazz. " I started off in classical music, singing and playing piano," she recalls. "I did not imagine I'd be playing jazz and improvizing." She studied music history at the University of Toronto, explaining that "I thought that might lead to something tangible, like researching or teaching. My interests were 20th century music and ethnic music, and they both come together in jazz in bizarre little ways."
Her conversion to jazz came in her late teens. Along with a girlfriend and in pursuit of a young man, she stumbled into a Toronto jazz club, for what would be a life-changing experience. "Playing that night were [top Canadian musicians] Lorne Lofsky and Ted and Kathryn Moses. "I thought, 'this is what jazz is? This is what I want to be doing,'" Lindzon recalls.
Intensive study for piano and voice with some of the city's best tutors followed. Lindzon's new skills were then honed in performance, primarily at corporate events and private parties for which she would both organize and perform the music.That placed her in contact with A-list local players, and she then began performing with them at more established jazz venues around the city. A residency at The Ben Wicks Pub was a turning point, she recalls. " "I hired top people and brought in interesting tunes so it would be fun for them too." 
Lindzon made her recording debut in 2008 with Moments Like These. This highly-acclaimed album was a duets record, with such Toronto stars as guitarist Reg Schwager, bassist Koller, and Don Thompson on vibes accompanying Lindzon's vocal and piano work.
Along with a strong passion for jazz, Lindzon has a real affinity for Yiddish music and klezmer. She is a member of the Sisters of Sheynville, an all-women sextet that's a popular attraction on the folk and world music circuit. They won a 2008 Canadian Folk Music Award as Vocal Group of the Year for their debut album, Sheynville Express, and perform at major North American klezmer and Jewish music festivals.
In 2009, the Canada Council for the Arts awarded Lindzon a grant to explore the fusion of Yiddish music and contemporary jazz. Her research culminated in Forgotten Melodies, a musically ambitious project that premiered in the Richard Bradshaw Amphitheatre at the Four Seasons Centre for the Arts last month. She is clearly an artist to watch.