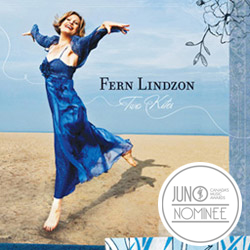 by Scott Yanow, Los Angeles Jazz Scene
A talented jazz singer-pianist from Toronto, Fern Lindzon has a warm and haunting voice that displays the influence of both classical and folk music along with excellent technique on the piano and an adventurous spirit.
On Two Kites she is joined by Mike Murley on tenor and soprano, bassist George Koller and drummer Nick Fraser.
The wide ranging program includes an exuberant version of Jobim's "Two Kites," "My Romance" (which includes an original "prelude" by Fern called "Moon In The Sky"), an atmospheric version of "Basin Street Blues," an instrumental "All Fall Down" which is based on "Autumn Leaves," and an Eastern European medley ("Yam Lid/Lustige Chasidm/Balkan Bellabusta"). Despite the diversity, this is a unified set with one piece logically leading to the next one. Murley's solos and his knack at blending with Fern's voice are major assets as are the
leader's piano playing and the support of Koller and Fraser.
Hopefully Fern Lindzon will play in the United States someday. But for now, Two Kites (available from www.fernlindzon.com) serves as a particularly strong overview of her talents and it makes for a very enjoyable listen.