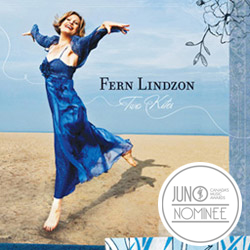 by Alain Londes, La Scena Musicale, November 2011
Fern Lindzon: Two Kites
Iatros 2011 (fernlindzon.com)
Vocalist Fern Lindzon's album exudes a feeling of lyrical relaxation as she canvasses a well-rounded collection of songs. The mood is conveyed from the first chord of the opening piece "Distance". Lindzon is perfectly in tune with her band, especially Mike Murley's tenor sax. Of the many numbers penned by Antonio Carlos Jobim, "Two Kites" is a hidden gem with English lyrics. It is a fitting title track that evokes space, air, and freedom, an uncluttered zone suffused with the' sense that "we can fly." Lindzon takes care of the lyrics while a background chorus soars with the rest of the band, undulating on the wind along a melody line not unlike Miles Davis's "Four". The bossa nova surfaces again with an original composition "All Fall Down" and João Donato's "At Quem Sabe", sung in Portuguese. Lindzon's delicate pianisms backed by George Koller's bass lead the way for the vocalist to add her own lyrics to "Moon In the Sky", which segues smoothly into an easy 4/4 swing of Rodgers & Hart's "My Romance". An extended 11/4 meter underpins the Yiddish art song "Dona Dona", supported by some beautifully lyrical soprano sax from Murley. Bill Evans is a big inspiration for Lindzon, as we hear in her piano work on "Grey Green". Even if it conjures up "Blue and Green", she fingers it with a personal touch. Next is an infectious musical blend of old Klezmer and contemporary jazz in the "Yam Lid" medley, a prelude to the closing bonus track, the 70s pop tune "If He's Ever Near". Overall this disc achieves a fine balance between Lindzon's lyrical voice and the backing of her talented band. Its upbeat feel is like a fresh message of love very much needed for the times we live in.