BIOGRAPHY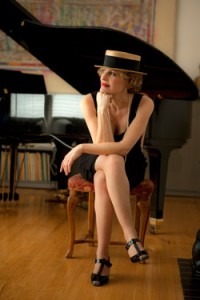 "Fern Lindzon is an engaging pianist and singer who brings an unassuming authority, an inquiring spirit and a natural grace to contemporary jazz."–Mark Miller, jazz writer
With the release of her third CD, Like a Circle in a Spiral, in 2014, Fern Lindzon has continued to put her own, unique spin on contemporary jazz.
The Toronto singer, pianist, arranger, composer and 2012 JUNO Award Nominee has again drawn on a wide range of inspirations, finding both the personal and the universal in the work of Michel Legrand, Egberto Gismonti, Cole Porter, Mary Lou Williams and others old and new, near and far, all warmly sung, imaginatively arranged and gracefully played. This wealth of musical riches is complemented by the work of saxophonist David French, vibraphonist Michael Davidson, bassist George Koller (also the recording's producer), drummer Nick Fraser and guest flutist Bill McBirnie.
Like a Circle in a Spiral is the culmination to date of a fascinating musical journey that began when Fern took classical voice and piano lessons as a child and continued through a degree in music history at the University of Toronto, studies with Frank Falco and Don Thompson and on, as a performer, into jazz and world music.
Since its launch in May 2014 at Toronto's prestigious Jazz Bistro, Like a Circle in a Spiral has received extensive airplay and uniformly favorable reviews. Stuart Broomer, writing in The WholeNote, described Fern as "a rare jazz singer" and noted that her "strong identity [is] based on nuanced expression, a clear, almost silky voice, and a freedom from the collections of mannerisms that many jazz singers use to distinguish themselves." Shelley Gummeson, commenting in !earshot, suggested that Fern "personifies a woman who lives confidently with her own instincts and artistry" on Like a Circle in a Spiral, and lauded her interpretations as "smart and smouldering" and "sublimely elegant."
Like a Circle in a Spiral follows Two Kites (2011), which was nominated for a Juno Award in 2012 as Vocal Jazz Album of the Year. The work of "a rare and fascinating talent," in the words of Montreal writer Irwin Block, Two Kites features Fern with George Koller, Nick Fraser and saxophonist Mike Murley in a typically embracing Lindzon program that flies gracefully on the winds of contemporary jazz, soaring from Antonio Carlos Jobim to Norma Winstone and touching down in Eastern Europe and on Broadway and Basin Street along the way. Fern's Juno nomination for Two Kites was foreshadowed by a juried Special Projects award from Toronto Downtown Jazz in support of the CD's launch in April 2011 Toronto's Lula Lounge.
Her first CD, Moments Like These (2008), of duets with George Koller, vibraphonist Don Thompson and guitarist Reg Schwager, was also critically well received and brought her to national attention through a feature article in The Globe and Mail and a broadcast performance in 2009 on CBC Radio's Canada Live. Tracks from all three of her CDs have been heard widely on other CBC radio programs, JAZZ.FM91, Espace Musique and many college and community stations across Canada.
Fern herself has appeared in leading jazz clubs in Toronto, Montreal, Vancouver, Victoria, Ottawa and Waterloo, and at several festivals in Ontario, notably the Barrie Jazz and Blues Festival, where she has been a favorite for several years and in 2011 presented a special concert in tribute to the great American pianist and composer Mary Lou Williams.
Fern's embracing vision of music has further been evident in her work as the music director from 2005 to 2011 of the klezmer-swing Sisters of Sheynville, who appeared at world music events in Canada, the United States and Poland, and won the Canadian Folk Music Award in 2008 for Vocal Group of the Year. She received a Canada Council grant in 2009 to study Yiddish repertoire and improvisation with Marilyn Lerner in Toronto and has also studied improvisation with Alan Bern at Yiddish Summer Weimar in Germany. More recently, she has collaborated on special Jewish music projects in Toronto with singer Theresa Tova and trumpeter David Buchbinder.
In 2010 she entered a new musical phase of her career when she led her own jazz/klezmer sextet in several performances of her original score for Buster Keaton's Sherlock Jr. at the Toronto International Film Festival's Bell Lightbox. Fern has continued to compose and improvise scores for other classic films by Keaton, Charlie Chaplin and others presented by the TIFF Bell Lightbox, the Toronto Silent Film Festival and the Vintage Film Festival.
Even as Like a Circle in a Spiral brings Fern new fans internationally, she remains vitally involved in the Toronto music scene as a performer and composer, a community event organizer and a voice and piano teacher, roles that she plays with an ever-inquiring mind and a wonderful generosity of spirit.