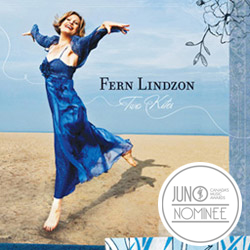 Dianne Donovan, Voices in Jazz, CD of the Week, CKUA
Jazz vocalist and pianist, Fern Lindzon's career should take off to new heights with the release of her second CD, Two Kites. She's already been the recipient of both popular and critical acclaim.
In this outing, she delves into introspective jazz (think, Norma Winstone, Bill Evans). The mood is key throughout. Lindzon steers away from vocal acrobatics, and uses her voice like a painter's brush. Her voice is airy but it is delivered in a focused stream with the control of a yogini.
As for the material, Lindzon breezes through tunes written by other artists and displays a real flair in her own compositions and arrangements.
Of particular interest are the tunes, Two Kites (by Jobim), and Grey Green (by Lindzon, with a nod to Bill Evans). One of the most arresting songs on the CD is Basin Street Blues. As a listener who still likes to do things the old-fashioned way, by playing the entire recording (even before reading any of the liner notes), that long-standing standard stood out; it was, of course, familiar, yet distant in its sauntering, swaggering way.
With a fine band including, bassist (and producer) George Koller, drummer-Nick Fraser, saxman,-Mike Murley and Lindzon herself (pianist), the foundation is set for Lindzon's flights o' fancy. I've mentioned some of my fave tunes but please, take my advice and put the CD on, sit back, relax and enjoy the ride.