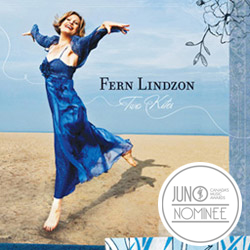 by Paul J. Youngman, jazzreview.com
Pianist and vocalist Fern Lindzon is based in Toronto, her second CD release Two Kites was recently nominated for a 2012 Juno award in the vocal jazz category. Her previous CD Moments Like These (2008) opened my ears to a delightful vocalist with a distinct style and a thoroughly polished command of her instruments, both vocal and piano.
On this outing Lindzon has surrounded herself with some of the best people on the Toronto jazz scene. Mike Murley, playing tenor and soprano saxophone, George Koller, playing bass and taking on the roll of producer and Nick Fraser drumming.
The opening for "Distance" by Norma Winstone, a laid back groove by bassist Koller and the song falls into place as imagination is set free to roam through miles of melodic space. Lindzon sings beautifully, blending registers from mid range to high end and phrasing that perfectly flows as she incorporates sustain and vibrato in flawless grace. Murley in accompaniment with the vocalist adds subtle, deep statements. During his lead statement, a sensual, romantic tenor tone takes flight and soars. The vocalist glides back in to gently fade.
The title track "Two Kites" by Antonio Carlos Jobim is played in an upbeat manner. A bouncy rhythm that has vocalist Lindzon leading a joyous take in a playful manner. Murley lets the tenor loose on this track and plays as if he is ready to plunge into the sea to cool it off. The lyrics for this song are priceless and Fern Lindzon has done a wonderful job interpreting them. Lindzon sings in Portuguese on "Ate Quem Sabe" and does an admirable job of it.
Lindzon continues with her superb interpretations as she flows through "Moon In The Sky/My Romance" Rodgers & Hart, "Basin Street Blues" by Spencer Williams and "If He's Ever Near" by Karla Bonoff. Ballads and the blues are given classical treatment, the Bonoff song is played as a folk ballad with jazz sensibilities and Broadway leanings. The blues of Basin Street is treated to a burlesque feel that is smothered with classic vocal charm. "My Romance" simply puts it all out there in a swinging ballad format that has everything a great song must have, even a delightful bass solo.
Two Kites includes two original Lindzon compositions "Grey Green" and "All Fall Down" two very different songs. One a haunting ballad with vocals and the other a fast paced swinging instrumental number. Lindzon's piano playing is the highlight of both of these songs.
The album also has a taste of Klezmer music in "Yam Lid/Lustige Chasidm/ Balkan Bellabusta" and Yiddish in "Donna Donna". Lindzon is a wonderful artist, she creates vocal magic for me and her piano playing – striking comes to mind, as does Monk and Evans. Two Kites is a thoroughly enjoyable listen that I look forward to playing – over and over.